Stonehaus Winery is proud to announce the release of Aaron Tippin's newest wine, Ready to Rock American Riesling.
Aaron Tippin has been on tour most of the time this year, but he's also been working tirelessly at our winery creating something exceptional for wine lovers and his fans. We bet you didn't know he's predominantly a white wine drinker, too.
NEW WHITE WINE
"We started out with the berry and fruit wines to great success, but I always felt like I wanted great white wine that had broad appeal," says Tippin. "Something fun for summer BBQ's, hanging out at the lake or on the back porch, and rocking away on those warm summer nights!"
So, of course, we were excited when he reached back out to Stonehaus Winery to make an additional wine, and a Riesling, too! We haven't had a Riesling for at least 25 years, so this is a perfect way to bring it back. Ready to Rock is light and crisp, but you're probably wondering why he chose that name.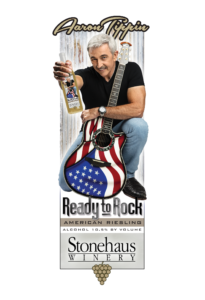 "We've named all of my wines after some of my favorite songs," says Tippin. "When we were working on this American Riesling, its personality just burst right through. It said, let's have some fun! Let's call up our best friends, breakout the smoker for some good down-home BBQ, crank up some good country music and let's get READY TO ROCK … in a country kind of way," he adds.
Tippin has been working on this wine for the better part of a year. "I thought a lot about what I wanted to have to drink and share with my family, friends and my fans," says Tippin. "We are finally past all this COVID mess and it's just time to bust loose and have some fun! That's what Aaron Tippin Ready to Rock American Riesling is all about!"
FREE CONCERT
To celebrate the release of his new wine, Aaron Tippin wanted to offer something special for his fans. So, he has decided to offer a FREE performance at Stonehaus Winery on Memorial Day (Monday, May 29, 2023) at 6pm. He will have a private VIP meet and greet at 4pm, before the show. He wants his fans to come out to sample his new wine and enjoy the celebration. There is no ticket or reservations needed. It will be an outdoor event, weather permitting. Bring a blanket or camping chair to sit on! Seating is first come, first served on the lawn. It's a family-friendly event, too! Kids are always welcome at the winery.
NOTE: No pets allowed. No outside food or beverages allowed. Food will be available for purchase at Bramble Berry Cafe next door and we will have some cheese and crackers platters available, too.