Stonehaus Winery is proud to announce the performers for the Saturday, Feb. 11 qualifying round of Tennessee Songwriters Week competition. Come and cheer them on and see which TWO songwriters will move forward in the competition taking place across Tennessee.
Tickets are only $10 per person and can be purchased at the winery or online at eventbrite.com. This is a great Valentine's Day date, too! You can enjoy FREE wine tastings before the show and purchase wine by the glass or bottle during the show.
Our Announcer: Tom Duggin
A native of the town of Dowelltown, located right in the middle of DeKalb County, TN, Tom Duggin has worked as both a broadcaster and a journalist for more than 30 years. His love of music led him into the radio business at the age of 16, and he has worked at a number of stations, including WJLE Radio in Smithville, WBMC and WTRZ in McMinnville, and more recently, WLIV in Livingston and Sports Radio 104.7 in Cookeville. Tom also spent 12 years working with DTC Communications, as both a producer and on-air personality for local channel, DTC3. Tom is likely best known for his work in sports broadcasting, which he has been involved with since 1993. He has broadcast literally thousands of games over the course of his career, and his work along with that of the DTC3 broadcast team was rewarded in 2016 and 2017, with recognition as having the best local TV content among all telephone cooperatives nationwide. Tom also enjoyed several years as Sports Editor for the Smithville Review newspaper and later served as Editor/General Manager of that publication. He also later served as Publisher/Editor of the DeKalb County Times newspaper. Tom has a deep passion for music and the arts, having worked as both an actor and singer in various productions over the years, as well as serving as co-emcee at the Smithville Fiddlers Jamboree for 23 years. This year will mark the second consecutive year Tom will have the honor to serve as emcee of the Songwriters' Showcase at Stonehaus Winery.
In no particular order, here are the night's performers:

Amy Danae
Amy is an independent artist. She was raised in Texas but has traveled and lived in various states throughout the US. Her love for music started at 2-years-old, when her parents would play guitar, piano, and sing. She has been working professionally in the music industry since 2011, mainly in musical theater. She has performed at many venues, including Lone Star Park in Texas, multiple theme parks, and special event locations. Songwriting is a passion of hers, and she is currently working on a release of the single you will hear this evening, as well as a an EP album for release this spring.

Vinny DeGeorge
Vinny
has been playing in bands all his life and now enjoys singing, playing keyboards, bass, drums and guitar. He once owned a record label in NYC and is now retired. Vinny still writes, records and plays shows for charity. He recently played Knoxville Worlds Fair Park and more. In addition, Vinny also produces other artist.

Olivia Frances
When Olivia Frances walks on stage, her infectious energy and powerful stage presence captures a room. With ethereal vocals, ocean-like synths, and an earthy acoustic sound, she takes the listener to a contemplative, spiritual place that leads one to reflect upon their own life's patterns. Frances glows in a similar sphere to artists such as Joni Mitchell, The Carpenters, and Kacey Musgraves. As an independent artist, Frances has organized dozens of tours throughout the Midwest, the South, and the East Coast, impressing audiences throughout. Notably, she has now performed at the world's largest rodeo, Cheyenne Frontier Days, two years in a row; where Maren Morris, Kane Brown, and Garth Brooks were headliners.
Musical from a young age, Frances started playing piano at age six and composed her first song on guitar at age twelve. Frances credits Fleetwood Mac, Bon Iver, and Florence and the Machine as musical inspirations. 2022 proved to be another momentous year for Frances. She landed her first magazine cover thanks to Worcester Magazine and she made her first TV appearance on KGWN TV Cheyenne. Above all, Frances had two songs up for GRAMMY

 Consideration including "Wind Chimes," for Best Americana Performance and "Somebody's Reason," for Best American Roots Song. Her fans, affectionately referred to as "Frances Friends," and new listeners alike, can keep up with Olivia's upcoming shows and news at www.oliviafrancesmusic.com.

Eitan Snyder
Eitan Snyder is a Nashville-based multi-genre songwriter originally from Rockville, MD in the DMV. Whether it's pop or country, Latin pop in Spanish or Israeli pop in Hebrew, CCM or EDM – if you can name it, he can write it! Eitan has started to get some of his songs cut by other artists including "Seasons" by Nashville-based hip-hop artist LoBo, "How to Lose Someone" by Dutch country artist Jop Dorris, and was featured with Zandi Holup on Song House social media channels with their song "First Time", garnering ~800K combined views on TikTok. Go to www.eitansnydermusic.com for more info.

Jamie Jordan
Jamie Jordan began singing at 8 years old, and has been singing ever since! He has performed on stages from Nashville to Austin; from Washington D.C. to Fort Smith to San Francisco. Since 2005, he has call Tennessee his home, and his favorite thing, (other than songwriting), is to take the old gospel songs he grew up with, and give them a new feel. "Those old songs like "I Saw the Light" & "Just a Closer Walk" have a wonderful familiarity, but we know them so well we don't think about what they are saying" Jamie said. "When I change up the rhythm, we hear them all over again!"

Vanessa Lynn Bird
Hailing from San Antonio, TX, Vanessa Lynn Bird discovered her love for singing at a young age and formed her first band in 2011. She has performed all over Texas including the National Anthem at Spurs' and Dallas Stars' games. In 2018, she was nominated as a top 5 finalist for Texas CMA's Female Vocalist of the Year. In 2021, Vanessa fulfilled her dream of moving to Nashville, TN and has been sharing her original music, co-writing, and working on a new album. Vanessa's debut EP, "Burn Brighter", charted at #36 on the iTunes Country charts on its release day in 2018. Her recent single, "Underestimated", is an empowering ballad dedicated to her journey as an underdog in the songwriting world.

Aaron Bucks
Aaron Bucks has established a reputation as a vocalist and a writer, with songs he's written charting on Billboard, played on Terrestrial and Satellite stations like Kenny Chesney's No Shoes Radio, along with with performances around Nashville at venues such as the legendary Bluebird Café, Listening Room Cafe, Pucketts, Kimbros Pickn' Parlor along with various Hotels (Hilton, Marriott) and Golf Clubs(Vanderbilt, Franklin) Along with winning the John Lennon, Unsigned Only and International Songwriting Contests as well as Bluebird Cafes Golden Pick contest. Songs from Bucks have also received songwriting recognition from other organizations like, Indie International, Unsigned Only, ISC, and JLSC. His style has been described as Country Soul, it is representative of Bucks himself: laid back, positive, and full of life. Away from music, Bucks can be found spending time with his wife and two children. He is an advocate for the Down Syndrome Association of Middle Tennessee (DSAMT) in memory of his youngest son Tobias.

Kevin Daniel
"A dynamic performer, playing 100-150 shows per year, Kevin Daniel's music has been described as "radio and TV ready with enough darkness creeping in around the edges to appeal to fans of Jason Isbell & Langhorne Slim." On his two early EPs, his 2019 debut album Things I Don't See, and his 2021 follow-up, Been Here Before, Daniel showcases a masterful ability as a songwriter to seamlessly incorporate bits of rock, soul, country, blues, roots and Appalachia into thoughtful examination of pain and awakenings, visceral and spiritual. A big-voiced crooner with a heart of gold, Kevin strikes a chord with "his raw and soulful, Chris Stapleton-esque timbre." [Music Connection]

Keith (KJ) Cherry
KJ Cherry is a singer and songwriter from Oklahoma. He was surrounded by music at an early age and began singing at his family's church as a child. KJ picked up guitar when he was 15 years old and found song writing as a form of expressing himself. KJ finds inspiration for his music from the GOATs Garth
Brooks and Jonny Cash and adds influences from artist such as Jason Isbell, Chris Stapleton and Zack Bryan.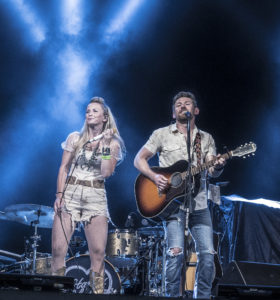 Martin & Kelly
Please allow me to introduce "Martin and Kelly." They have been support acts in just the last few years for some of country music's biggest names including Willie Nelson, Brothers Osborne, 
Phil Vassar
,  Aaron Tippin, the Oak Ridge Boys and many more. Their combination of vocals and harmonies tied together with Ryan's tasteful guitar … makes Martin and Kelly a must-see duo!
Patricia Lynn Henry
Award-winning songwriter Patricia Lynn Henry brings you an imaginative world where cats and dogs breed ditties, divas dumpster dive and alternative protein sings. Very prolific, she has written a whole musical from her modestly ribald romantic comedy spoof "The Last Resort". Come take a ride on her mobile Colonic truck and say "Bye, Bye Bile!" Her songs are a roller coaster of emotions were flowers have feelings, historical figures pull pranks, musicians and singers who died in airplane crashes form a "Choir In The Sky" and worms beg you to compost. From teary love songs to hilarious humor enter her world, and enjoy the ride…!

Wesley Spangler
Tennessee has a new face and voice that calls it home, but Wesley still performs all over the country spreading the love and sharing his passion for performing! If ever there was a natural-born entertainer, it would be Wesley Spangler!
He is known for his energy and antics on stage and brings his audiences "into" the music he plays. His multi-instrument talent is showcased on several songs in his shows such as playing the fiddle on Mountain Music by Alabama, one of five different instruments he is able to play.
"I love musical instruments of any kind, and it is addicting learning to play new ones!"  ~WS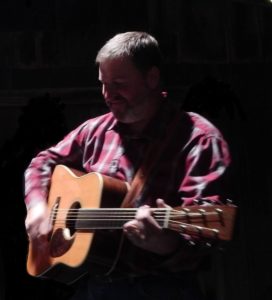 Justin Demps
Justin is the son of Bluegrass USA Hall of Famer, John Henry Demps of Sparta Tn. Growing up singing Gospel music on WSMT radio and traveling to singing conventions with his family was an early influence on his singing. Justin would visit backstage at the Grand Ole Opry with his neighbor Bill Jones, and square dance team, where at the age of eleven Buck Danced on the Friday Night Opry. Justin accompanied his father on guitar at fiddle conventions where he met lifelong friends and musicians, Gary "Biscuit" Davis, Jimmy Mattingly and Danny Roberts. Together they would form a band for competition and accompany one another in individual categories. Justin has cowrote the Mattingly and still relies on feedback from these successful friends.
In the early 80's Justin traveled on the road playing Officers Clubs on Air Force Bases over the US with Lower Forty Grass from Virginia.
In 1982 he performed at the World's Fair in Knoxville Tn. at the Folklife Festival with The Grassroots Revival Project headed by the late Anne Romaine, Championship Fiddler Fraiser Moss, Jack Sallee and Sparky Rucker. He traveled with the Grassroots Project playing schools and auditoriums all over the US. Influenced by Folk Music and storytelling greats, Moss, Rucker, Nimrod Workman, Phyillis Boyens, Hazel Dickens, Alice Garrard, Mike Seeger and the Georgia Sea Island Singers (Doug and Frankie Quimby), Justin started writing songs. Off the road he settled down in Sparta TN. and started playing at his father's dance hall, The Midway Music Barn. Later he joined guitar and banjo great Ron Bilbrey and the Country Scene Band playing bass for sixteen years. Justin and friend Phillip Moss formed the band High Caliber taking a show out on the road playing drums and bass for twelve years with a mix of rock and country. After High Caliber he played drums for the group Tennessee Backroads Band.
All the while writing songs, Justin got back to his roots of Gospel and Bluegrass music songwriting in Americana style. All the life experiences, stories and characters from the past seem to fall on the pages he wrote. Teaming up with various poets and writers around the Middle Tennessee area expanded his writing into other genres.
Tommy Hancock
Tommy Hancock is a veteran performer and songwriter. He spent seven seasons at the Cumberland County Playhouse as an actor singer and musician. He is currently the lead singer and rhythm guitar player for the local band Hollerback! Tommy is excited and honored to be a part of this show.

Phil Laeger
Originally from Charlotte, North Carolina, singer/songwriter Phil Laeger moved his family to Tennessee two years ago. Phil writes hopeful songs that tell stories of meaning and redemption. When he's not making music, he's loving life in Wilson County with his wife Sarah, their three teenagers and their 100 pound Newfiedoodle.