Stonehaus Winery is proud to announce a partnership with Mayfield Gin and our Tickled Pink Sparkling Wine for a Valentine's Day Cocktail.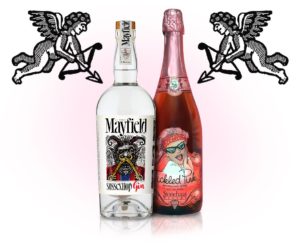 Just in time for the month of love, we're giddy with excitement to announce a romantic union with Stonehaus Winery's Tickled Pink Sparkling Wine and Mayfield Sussex Hop Gin for Mayfield "Tickled Pink" 75, a twist on the classic cocktail, French 75.
A match made in Heaven!
The Mayfield "Tickled Pink" 75 is a refreshingly crisp, citrusy and effervescent bubbly cocktail.
How to make:
Stir a spoonful of powdered sugar with 0.5oz lemon juice in a shaker. Add 1.5oz Mayfield Gin, shake with ice and fine strain into a chilled flute glass. Top with Tickled Pink Sparkling Wine.