by April Wheeler Tazelaar
Fay Walker Wheeler, also known as the "Grandfather of Tennessee Wine," age 90, of Crossville, Tennessee, passed away June 8, 2022, in Nashville.
     Born June 2, 1932, in Jamestown, Tennessee, to Exen E. Wheeler and Myrtle M. (Tipton) Wheeler, Fay was one of 11 children. Growing up in the remote Sharp Place community awarded him many skills that he would use throughout his life, especially during his long military career.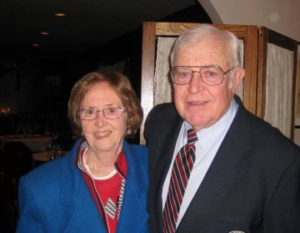 Fay joined the Air Force in 1951. He graduated from the Radio School and the Radio Intercept School in 1952, and Crypto School in 1954. After completing his studies, he was transferred to Landsberg, Germany, and then Zweibruken, Germany. From there, he spent time in Scotland, returned to the States where he was stationed in Texas, transferred to Frankfurt, Germany, and finally to Crete, Greece. Some of his fondest memories were of his time in Germany and Greece. His experiences there would later prove instrumental in shaping his career as a winemaker.
Fay served for more than 20 years in active military duty with the Air Force, where he was awarded medals and ribbons, including the Air Force Commendation Medal with two Oak Leaf Clusters. He retired as Chief Master Sergeant in 1971, the highest Air Force enlisted grade. The Air Force offered him many opportunities for international travel and experiences. He was always happiest when sharing his stories about his time with the NSA and his adventures around the world.
     In 1958, Fay took consecutive tours in Edinburgh, Scotland, where he met the love of his life, Kathleen Christie. They married in April of 1964 and moved to Jamestown, Tennessee, where they opened a Sears Merchant store together — the first in the area.
Becoming a Wine Maker
Fay's focus soon turned to his second true love, winemaking. As a boy, he had watched his father make wine from the juice that was used to make jellies. And during the 17 years he was stationed in Europe, he was exposed to many varieties of wine and the winemaking process.
     For Fay, growing grapes and making wine began as a hobby in 1978, but he soon decided this hobby should be his next career. And wow, what an incredible career it was!
     Fay, along with other members of the Tennessee Viticulture and Oenological Society, was instrumental in the passing of the Grape and Wine Act, which opened the door for licensed wineries to have tastings and sell wine in the state.
     In 1980, Fay partnered with his dear friend Robert Ramsey to open the first licensed winery in the state of Tennessee, Highland Manor Winery, in his hometown of Jamestown. He also planted the first commercial wine grape vineyard. He is considered to be the "Grandfather of Tennessee Wine" and was instrumental in opening the doors to the burgeoning industry.
Award-Winning Wine
Three years after opening the winery, Fay was awarded four international gold medals for wine quality. A year later, he won three more international gold medals, one of which was for his Muscadine Champagne. He was also the recipient of the prestigious Homer Blitch award.
     He was an American Grand Officer of the French Ducal Ordre de la Croix de Bourgogne and a Supreme Knight in the American Knights of the Vine, one of the highest honors in the American Grape and Wine Brotherhood. Fay was also a board member in the Tennessee Enology and Viticulture Society.
The Beginning of Stonehaus Winery
For nearly 10 years, Fay and Kathy Wheeler worked together making and selling wine at Highland Manor. But Fay had a desire to share his knowledge and expand to an even broader market. He sold Highland Manor and, in 1990, partnered again with his dear friends to open Stonehaus Winery in Crossville, Tennessee. Stonehaus is still producing and bottling some of the best wines in the state. It wasn't until Fay was in his 80s that he semi-retired from the winery. (It's unclear if he ever officially retired, as he still went in so frequently!)
     Although Fay is best known for his winemaking, he was also a member of the York Institute Advisory Council, the Roane State Community College Foundation Board of Directors, and the University of Tennessee AG Development Board. He was also a devoted Mason and was awarded the Sublime Degree of Master Mason for his 60 years of service.
     Fay Wheeler was a true gentleman whose kindness and generosity touched the lives of so many. He was deeply devoted to his family, his friends and his faith. He is survived by his daughter April Tazelaar (RJ Tazelaar); sisters Betty Sue Hull of Jamestown, Tennessee, and Dixie V. Connell of Dayton, Ohio; and a host of beloved nieces and nephews.
     He was preceded in death by his beautiful Scottish bride, Kathleen Elizabeth (Christie) Wheeler; sisters Doris Wheeler Jones and Erlene Wheeler Copeland; and brothers Exen Wheeler Jr., William L. Wheeler, John M. Wheeler, Huston Wheeler, Zoral C. Wheeler and Clyde T. Wheeler.
     Services will be held June 18 at Bilbrey Funeral Home in Crossville, Tennessee. Visitation will begin at 9:00 am with the service beginning at 11:00 am.